Are you want to prank your friends with SMS Bomber, we are here with one amazing app which is used for SMS Bomber, which is BOMBitUP APK. One of the best thing of this app is support international numbers means you can prank with different countries numbers. You can send unlimited messages to victim numbers and you can do anonymously, so your identity is completely safe. If you are bored, so you can try to prank your friends with this app and get smile on your face.
You are completely safe until you use this app for any revenge or send to anon person, you get trouble if victim file complainant against you in Police Station or Cyber Crime. So Developer is not responsible for your activity with BOMBitUP. This app only made for prank your friends or make fun of with your relatives or friends. IOS version of BOMBitUP still in development, we will give you update after release.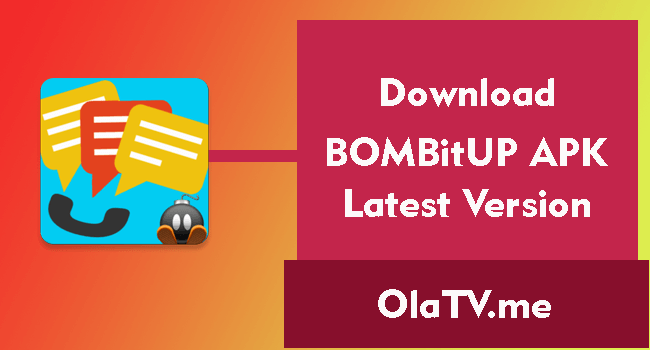 [intense_alert color="#212863″]What is BOMBitUP APK?[/intense_alert]
BOMBitUP is one of the best SMS Bomber app in the google play store. A SMS Bomber app is actually a fake message or chat creator which is used for prank people and fun purposes. There are a lot of websites present which also give the same service but the websites are not updating the API of SMS. One of the best is BOMBitUP in which the any API is actually working because the developer updates it. The developer of this amazing app is Sanchit Gera from India.
BOMBitUP is made just for fun purposes, to prank people so use it wisely do not spam anyone with a lot of messages. BOMBitUP APK gets updated oftentimes because the developer of the app is extremely active on this project. If any API stopped operating thanks to any quite issue, the developer straightaway fixes the problem and create the app works once more.
[intense_alert color="#212863″]BOMBitUP APK Features[/intense_alert]
•  SMS Bomber: You can send a lot of messages at once
• Free SMS: All the messages will be free of cost
• International Bomber: You can send messgaes in different countries like USA, U.K, Pakistan, Nepal, Philippines and many more.
• Custom SMS Bomber 
• Email Bomber
• Call Bomber 
• Protection of your number; You can protect yourself by registering your number. Logs will be deleted after seven days you need to do register again)
• Constant Updates
• WhatsApp Spammer
Previously it has only fewer options like solely bombing messages to only Indian medium services, however currently it has some wonderful options that may assist you to bomb the text messages in North American nation medium services and UK medium services conjointly.
Not solely this application are going to be serving to you to bomb the text messages, however conjointly this is often helpful for Email bombing. Yep, you detected it right! the newest update has this feature that may assist you to require revenge on Spam Mailers.