Currently, DELTALABS Studio has developed a brand new WhatsApp mod, which is known among users as Delta YoWhatsApp APK. It is developed by the developer of DELTA-GB WhatsApp. This app is technically based on Yourself-Al Basha. You can definitely know now from the fact that if YoWA is wonderfully helpful then, Delta YoWA will be more than just wonderful. This is because it has more features and specifications than YoWA along with a unique UI. It is worth a trial. You can check out its helpfulness after using it.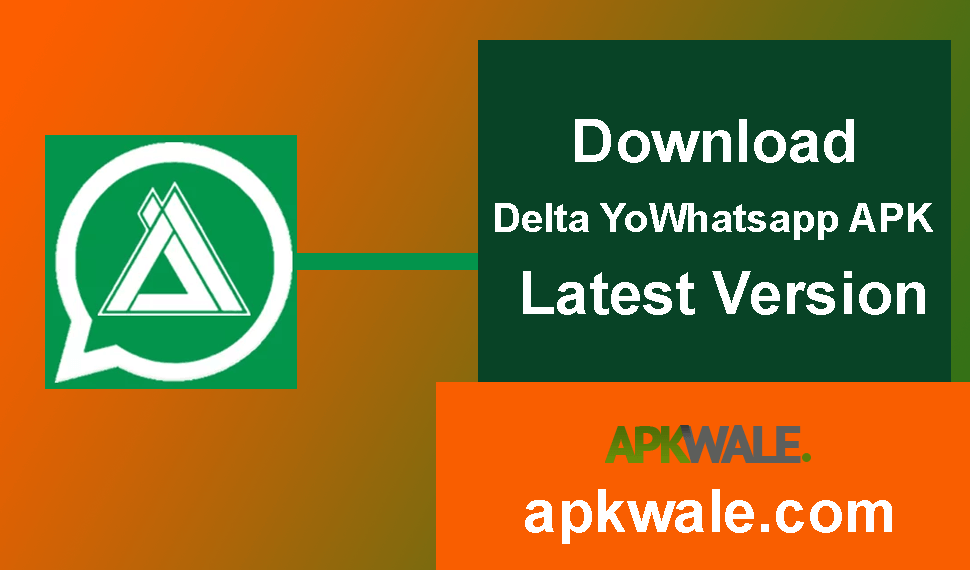 [intense_alert color="#212863″]What is Delta YoWhatsApp?[/intense_alert]
Since WhatsApp currently announced to ban the users of GBWhatsApp, GBWhatsApp never came with an update. After that DELTALABS Studio started to think up for another way and came up with a new concept called DELTA YOWA.
Now the latest version of Delta YoWhatsApp Apk has been released. The customization features are fantastic. The UI is one of a kind. You can find out broad Spectra of other features with Delta settings on the go. Therefore, it is not a bad option to try out. Who knows it might end up liking it.
[intense_alert color="#212863″]Delta YoWhatsapp Features[/intense_alert]
It has dark and light, custom and transparent
It also features custom emoticons as well as some fancy text for statuses and chat.
It has also got a custom tab and drawer Icon. You can replace your icons with YOWA icons.
There is also a wallpaper editor along with telegram pattern in it.
There is a DND mode (Do Not Disturb).
There is a curved shaped menu in the bottom for navigation purpose. There is an option for Instagram stories, drawer layout, the row with the card, custom search, etc.
Select the wallpaper for home screen background.
Font Styles – Choose from various styles. (30+)
App Language – Arabic, English, Espanol, Italian, Portuguese (Brazilian), Hindi, German, Turkish, Indonesian, Marathi, Bahasa Malaysia, Azerbaijani, and Russian.
Send Image up to 18 MB
Share more than 10 images in a single tap.
Send up to 700 MB video file.
Set 5 Minutes Status – Only mod users can see this.
Enable/Disable Proximity Sensor
Enable/Disable output switching while playing audio.
Home Screen Configurations.
Chats Screen Configurations.
Enable Lock for the Delta YoWhatsApp.
Backup and Restore while updating to new version.
Backup and restore themes.
Who can Call me?
YoThemes – All Compatible (Tested by me)
Hide Media From Gallery.
DND – Do Not Disturb (Top of the Home UI)
All privacy Options added including Anti Delete Messages and Anti Delete Statuses/Stories.
If I forgot anything to mention here, then please let me know via comments.
[intense_alert color="#212863″]
Download Delta YoWhatsApp APK 1.1.3 Latest Version

[/intense_alert]

The app is not available on the Google Play Store to download. You can only download its APK file from our website. The latest version of the APK file is available here. Check the below section to get direct download links.
[intense_alert color="#212863″]Delta YoWhatsapp APK Info[/intense_alert]
| | |
| --- | --- |
| Name | Delta YoWhatsApp |
| Developer | DELTALABS |
| Latest Version | 2.1.0 |
| Last Updated | Nov 24, 2019 |
| Requires | Android 4.0+ |
| Size | 30 to 44 MB |
| Category | Mods |
| Follow | Telegram |
[intense_alert color="#212863″]How To Install Delta YoWhatsApp APK[/intense_alert]
If you are not aware of installing procedure from Unknow Sources, we have given complete steps just follow it:
Download APK file from above link and tap to install after installation click on the done button and launch the app. But if you want to use your existing account in Delta YoWhatsapp you have to backup chats from the official Whatsapp app.
Take the complete backup in your phone
Step 1. Open official Whatsapp and click on 3 dots on top right, than tap on Settings,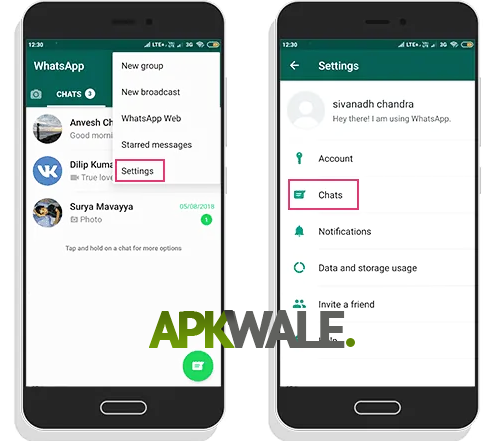 Step 2. Click on Chats
Step 3. Click on Chat Backup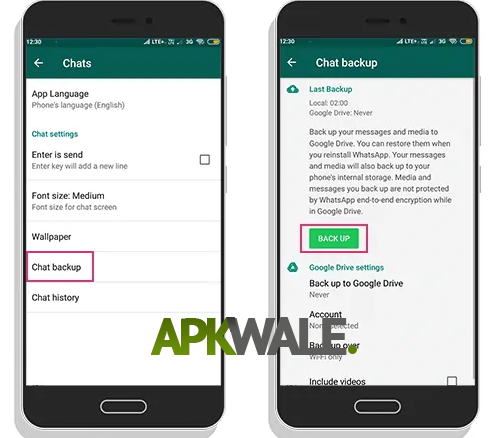 Once you click the "Backup" button it starts the backup process.
Install Delta YoWhatsapp APK with Chat Restoring
Step 1. Download APK file from above link
Step 2. Click on the APK file which you have downloaded from this page.
Step 3. Click on install button.
Step 4. If you will get a warning pop-up for Unknown Sources if you haven't checked the Unknown Sources option in your Security Setting.
Step 5. Allow the "Unknown Sources" option and then install the APK on your device.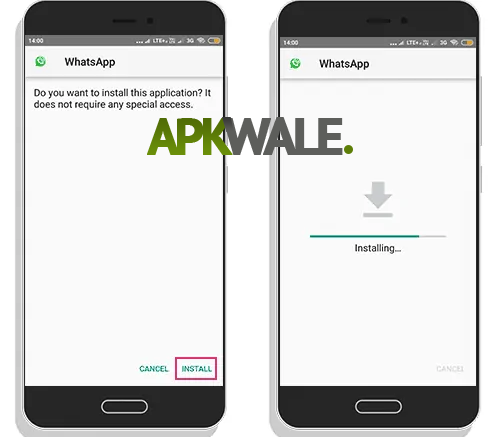 Step 6. Once the installation process is completed, you need to open the app and click on Agree and Continue Button.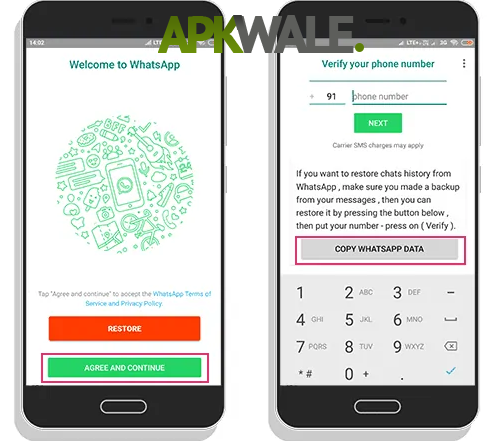 Step 7. Now click on COPY WHATSAPP DATA and then enter your mobile number.
Step 8. Then your whatsapp will be verified and you will get the option to restore the backup. Click on Restore and wait till the backup process completed.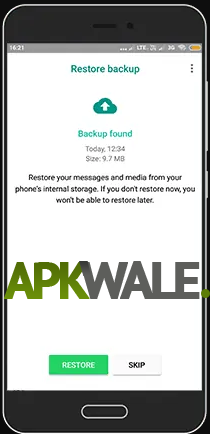 Now you have successfully installed Delta YoWhatsapp in your device, you can go to the setting where you can find the Delta YoWa setting to start using the features of Delta YoWhatsapp.
[intense_alert color="#212863″]Delta YoWhatsapp FAQs[/intense_alert]
Is it safe to use Delta YoWhatsApp?
Yes It's safe, because this Whatsapp mod APK use official Whatsapp server to send and receive messages.
Is it available for IOS device?
No, it's not, it's only available for Android device, it can be used in Desktop and Laptop via Android Emulator.
Is Delta YoWhatsApp better than the official WhatsApp?
Yes, becauseDelta YoWa has lots of features which Official Whatsapp doesn't have and official have lots of restrictions.
Can I see deleted messages in Delta YoWhatsapp?
Yes you can see messages which are deleted by your sender, while this feature official Whatsapp doesn't have.
Can I use both WhatsApp and Delta YoWhatsApp simultaneously?
Yes, you can use both, and also you can use other mods but with different numbers.
Final Words
All features on Delta YoWhatsApp are original and authentic featured which will come to great use. There is all-new and cool UI which many people will love to use.